Percale vs Sateen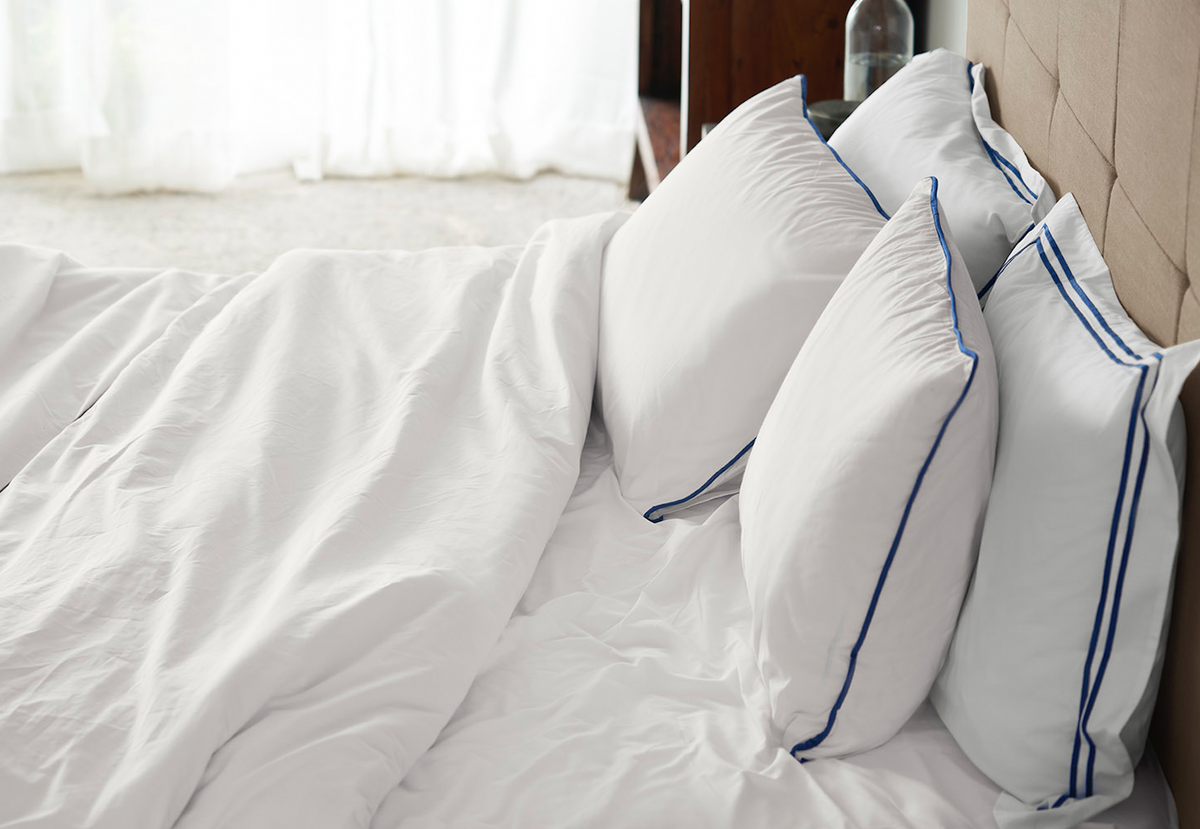 Why should you care?
Choosing the perfect bedding for yourself is important, it can enhance your sleep experience which can make you happier and more productive. To do this right it is really important to understand weaves. The weave you choose determines the way your bed linen looks and more importantly the way it feels on your skin. 
What are they? 
Percale and Sateen are types of weaves that fabrics are woven into. Each weave creates a unique fabric with distinct properties. At Kansso our bed sheets and duvet covers come in both percale and sateen.
Percale
Percale (pronounced "per-kail") is a simple one yarn over one yarn under weave which results in a crisp, smooth and lightweight feel. You may have felt these sheets at your favourite upscale hotel. This weave is perfect for hot sleepers. Percale sheets are matte in finish and extremely durable and easy to care for. They are extremely breathable and sleep cool, but do tend to wrinkle easily. Percale tends to soften with each wash and will become more comfortable over time. 
Percale thread counts are lower simply because the plain weave allows for fewer threads in a square inch. This is what makes percale lighter and cooler, which is preferable for hot sleepers. 
Sateen
Sateen is weaved as one under yarn and three or four over yarns; this is what makes them feel buttery smooth on the skin and have a subtle sheen. The tight weave pattern is what allows the fabric to achieve a higher thread count. Sateen usually wrinkles less and has a smooth look. This weave drapes really well, giving your bed a grand look. 
Sateen, with its higher thread counts (that is, more densely packed yarns), tend to be softer but also heavier than percale.  This weave is the preferred weave of most people because of its soft and snug feel. 
How to find your match?
It really boils down to personal preference and that's why it is so important to understand what each weave has to offer. To help you make a choice here is a guide: 
You may prefer percale if: 
You are a hot sleeper feeling warm at night 
You love hotel sheets
You want your sheets to get softer over time
You want sheets with a matte finish
You may prefer sateen if: 
You prefer sleeping cosy
You prefer softer fabrics
You want sheets that have a silky finish

You want a smooth look that drapes well